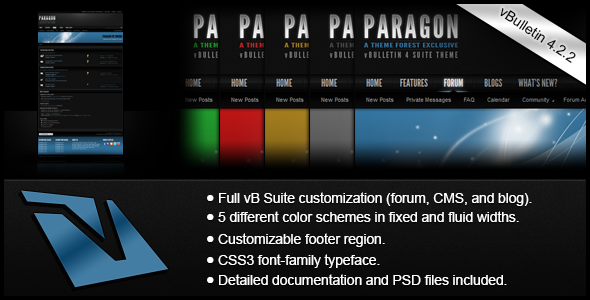 Paragon is a premium(free for This site) theme for the full vBulletin 4.x suite: the CMS and blog in addition to the forum. It was designed to serve those vBulletin users who want a more modern hi-tech look for their vBulletin-based site. Though Paragon features full suite customization, the theme will work with forum-only installations.
Features
Full vBulletin Suite customization (CMS, blog, and forum.)
Five color schemes in fixed and fluid widths.
An easy to edit custom footer region (individual templates are installed for each footer column via included plugins.)
Three custom CMS grids (these are currently only compatible with the fixed versions of the theme).
CSS3 typeface for the various headings. Includes seven different fonts. See the preview images to view the different fonts.
Lavalamp style jquery animated navigation bar.
Xenforo-inspired jquery dropdown login in box.
Includes layered .PSD files used in the creation of the graphics.
Detailed documentation.
shots: