Winter Snowfall was designed for the holiday season to catch that cold "I want a hot chocolate" feeling.
The color scheme is dark blue and green.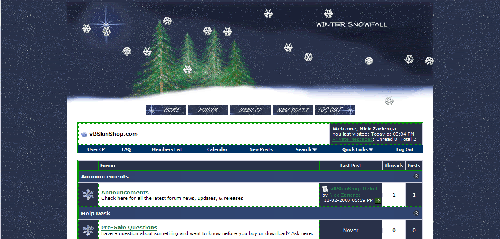 View:
Live Demo
5 Screenshots are attached also.
Originally designed for 3.6.8:
Winter Snowfall (Holiday Christmas) Style - vBulletin.org Forum
Differ from vB 3.6.8 to vB 3.7?
Removed green dotted table borders and removed the footer image.
Known Issues
They're are some alignment issues in the profile with text and friend's avatars. Couldn't figure them out right away, would appreciate help.
Features:
The main feature of this template is the header. It features a snowfall marquee that is customizable. It looks as though the snowflakes are falling into the snow of the header image. Instructions on how to add more snowflakes are attached in the .zip file.
Files:
The uploaded files include:
(Winter Snowfall.zip)
- XML File
- Images
- Instrustions
(Winter Snowfall PSD.zip)
- Header Logo PSD
- Postbit Button PSD
- Header Buttons PSD (3)